︎DIAL 1-833-4MC-TING ︎
VIRAL 《不要出门》 is an EP and virtual world created by black bilingual mandarin- language rapper MC Tingbudong.

Written as a conversation between China and Black America, VIRAL 《不要出门》 is produced in collaboration with artists across the Chinese and Asian diaspora. Told through six interactive musical experiences, it is a re-imagining of an era of pandemic and protest as a pirated video game sent from a revolutionary future.

Explore the metaverse of MC Tingbudong in this choose-your-own-path virtual adventure created from hours of personal footage, news clips, virtual reality videos, and other original content. Connect and chat with other people from around the world in an interactive 3D playground. Boot up the floppy drive, grab your mobile phone, and put on your VR headset - VIRAL is an immersive experience that blurs the lines between language, online and IRL, retro and futuristic.

Click the computer below to enter the Viral, A Virtual World. For best experience, view on desktop.
︎CLICK BELOW ENTER THE VIRTUAL WORLD// ︎进入虚拟现实世界
︎ LISTEN TO THE EP // 收听专辑 ︎
2.18.22 FRI 8PM .... VIRAL, A VIRTUAL LUNAR NEW YEAR FESTIVAL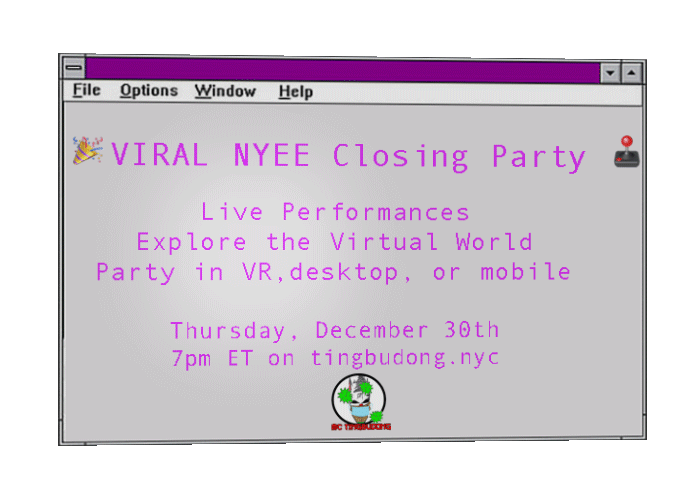 12.30.21 THURS 7PM .... VIRAL NYE(E) CLOSING PARTY
Join me for the last event in Viral Virtual World and celebrate the online exhibition with a closing party. Featuring live performances, screenings and music live from the 3D environment, powered by Mozilla Hubs. Come through and explore the virtual world,and party in VR, desktop or mobile. RSVP here on Eventbrite.
12.12.21 SUN 8PM .... VR VIDEO GAME NIGHT
Join MC Tingbudong for a demo of the virtual reality experience in VIRAL, A Virtual World on Mozilla Hubs, followed by a video game livestream of some of the games and characters that inspired the creation of VIRAL. Sign up to join me online via your email.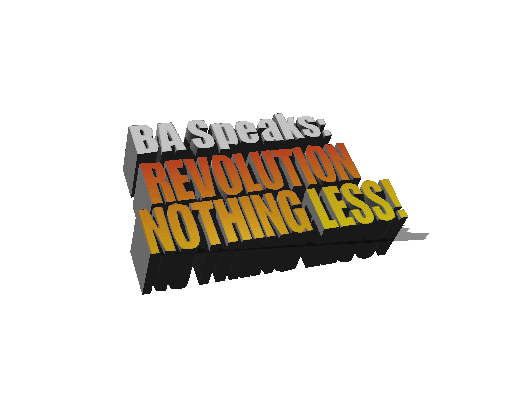 12.11.21 SAT 8PM HOLIDAY PARTY @ REVOLUTION BOOKS *IRL*
In Dangerous Times, Raising Our Sights to a Radically New World

Join me at Revolution Books in Harlem for a Holiday Open House and Party. Come to learn, have fun, and help take the RevBooks $20K Fund Drive over the top at the place to buy your holiday books and gifts. The open house starts at 2PM, and I'll be jumping on at 8PM to share some tunes and a select performances from VIRAL. $5 recommended donation. Proof of vaccination required (12+) to pull up IRL to Revolution Books in Harlem, or tune into the stream online.
12.10.21 FRI 7PM CHINA + BLACK AMERICA PARTY
A night conversations on the cultural connections between blacK America and China, and the creative process behind VIRAL. featuring jason chu, Eddie lu, Kayla Briet and Bohan Phoenix. Featuring a special livestreamed performance of VIRAL from MC Tingbudong.
12.9.21 THURS 6PM YAHDCAST Show @ RISE RADIO NYC *IRL* 57 Graham Ave, Brooklyn, NY 11206
Interview and live performance on YAHDCAST at Rise Radio NYC . Watch on Twitch via @RiseradioNYC. Pull up in person to be part of an intimate live audience., explore the virtual world, and catch a rare in-person performance from MC Tingbudong.
12.8.21 WEDS 10AM VIRAL LIVE FROM SHANGHAI COMMUNITY RADIO
Join MC Tingbudong, and the homies from Shanghai Community Radio for a live broadcast and special screening of the animated music video for "Say U Dunno".
12.7.21 TUES 4PM ARTISTS TALK HOSTED BY @ANNENBERGLAB
Join MC Tingbudong for discussion on the technology behind VIRAL, and a conversation about world-building. Hosted by USC Annenberg Civic Media Fellows.
12.2.21 THURS 9PM OPENING NIGHT LISTENING PARTY
Get a first peek at the metaverse of mc tingbudong. Take part in listening to the new EP, and take a guided tour of the virtual experience




︎STAY IN CONTACT // 保持联系 ︎